Shop, experience & enjoy in Italian!
Enjoy Italian specialties and food in all its variety and experience Mediterranean flair in the family-run business.
We offer you the full enjoyment of Italian cuisine. From a lifetime of experience and with the best family recipes. Culinary delights imported from Sicily to Mönchengladbach! Alessandro and Monica Rizzo open the delicatessen La Caponata.
Welcome to La Caponata! With us you will find a large selection of classic and Italian antipasti and fresh pesto, as well as a large selection of air-dried salami and sausages, as well as cheese from Sicily. We would be happy to invite you to try our delicacies on the spot at any time.
FLAVORS OF SICILY
FRESH PESTO, AIR-DRIED SALAMI AND SAUSAGES AND CHEESE FROM SICILY
Catering Mönchengladbach Fingerfood
We serve you hearty snacks for parties and buffets in Mönchengladbach and the surrounding area: Whether it's a standing reception or a company anniversary, enchant every occasion with our finger food specialties.
ITALIAN TYPICAL FINGERFOOD
BEST CHOICE FOR EVENTS AND ANNIVERSARY
Wine trade & spirits Mönchengladbach
What would Italian delicacies be without selected wines? We present you a rich, up-to-date selection from Tuscany to Sicily! We would like to present you with good wines with their own character, which also tell the story of their origin and the people who produce them – class instead of mass! The diverse and carefully selected range consists of personally selected wines.
Party service Mönchengladbach
Surprise your guests with first-class catering from La Caponata! We do party service and catering for business and private. For every occasion, for a small evening at home, for a business conference or for a company anniversary.
With us, your private and business guests are in the best of hands.
We have been guaranteeing for years:
FRESHNESS
We are really focused about quality
You are welcome to visit us on site and take a piece of Italy home with you.
Enjoy with Family and Friends
25% Discount
for Family Parties! Coupon 015
Italian gift basket Mönchengladbach
Often one is faced with the challenge of a gift, for example at Christmas or for an occasion like the golden wedding anniversary! Italian gift baskets are unusual and yet solid – they enchant every event and men and women alike. You can buy a filled gift basket from us and have it sent to you.
If you have a specific idea or a special occasion, our gift basket service will put together your own basket full of delicacies. Simply choose what and how much you want – we will arrange the products decoratively in a basket. We pack all delicacies and ship your selection too!
Don't just make gourmets happy!
Call for Your Events
For further information about our event options, including configuration and menus, email or call our Events team. Call Our Team. 0176 229 29 200 – 021613022065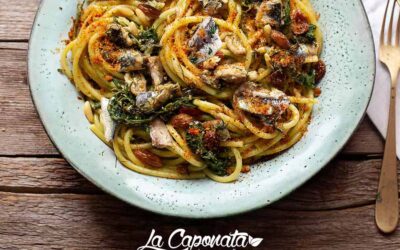 rrPasta with sardines is a sea-mountain first course typical of Sicilian cuisine, in particular of...